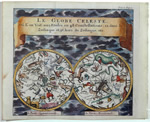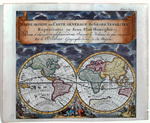 California as an Island
Buffier, Claude, Mappe-Monde ou Carte Générale du Globe Terrestre représentée en deux Hémisphères together with Le Globe Céleste Ou on voit 1022 Etoiles en 48 Constellations, 12 dans le Zodiaque et 36 hors du Zodiaque, etc., Paris [1792]. Two maps printed on two sheets, each map measuring 5.75 x 6.5″ (14.5 x 16.5 cm). Copperplate engravings; modern wash color. $435., the pair.
A charming miniature pair. Buffier was a Jesuit theologian and geographer from Warsaw who worked in Paris. These maps were published in a late edition of his Géographie Universelle.