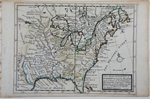 [North America, east of Rockies] Moll, Herman, A New Map of ye North Parts of America claimed by France under ye Names of Louisiana, Mississipi, Canada & New France, with the Adjeyning Territories of England & Spain By H. Moll Geographer. 1729. London, 1729 [1730-32]. 8 x 10.6″ (20 x 27 cm). Copperplate engraving; original outline and wash color. $550.

North America east of the Rio Bravo (Rio Grande) with the Great Plains marked as "parts unknown". This map, dated 1729 on its face, was published in Moll's Atlas Minor, which was issued in London between 1730 and 1732. It is notable for its detailed mapping of Canada and the upper Mississippi River valley. Herman Moll was a German mapmaker who spent most of his life in London. He was a friend of Jonathon Swift and is mentioned in Gulliver's Travels (fourth voyage).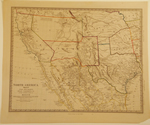 [Southwest U. S., & Mexico] Society for the Diffusion of Useful Knowledge (SDUK), North America Sheet XV Utah, New Mexico, Texas, California &c. and the Northern States of Mexico... London, George Cox, Jan.y 1853. London, 1853. 12.25 x 15.5″ (31.2 x 39.5 cm). Steel engraving; original outline color. $485.

Published during the year of the Gadsden Purchase, this map records the prior Mexican-U.S. border when the Arizona and New Mexico borders ran along the Gila River, placing today's Tucson in Mexico. Texas is greatly distorted. The map traces the Oregon and Santa Fe Trails out of Independence Missouri together with Fremont's route and the Spanish Trail from Santa Fe to Los Angeles. The Tule Lakes shown in central California are massive. The SDUK was founded in 1826 to provide the working and middle classes inexpensive texts in science and other high-minded matters. It had largely failed by 1848, but its atlases, which were prepared to a higher standard, continued to be published well into the 1870s. A little spotting, mostly visible in the margins.