Open by appointment or chance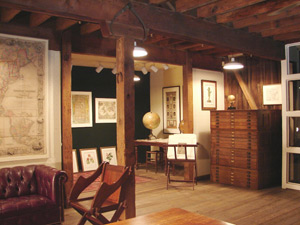 The gallery is a restored, nearly-hundred year old redwood barn set in the middle of a lemon ranch just west of Santa Paula, California, about sixty miles up the coast from Los Angeles and forty-five minutes south of Santa Barbara. More precisely, you can find it at 34°N 19'20", 119°W 06'. Please call ahead to make sure I'll be in.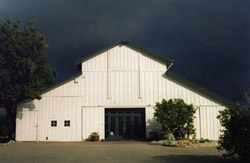 My late husband Ben and I bought the ranch in 1985, primarily because we loved the derelict, hip-roofed old barn. Built around 1910-15, it housed mules and hay when the primary crop was lima beans. Some of the redwood ceiling joists have been burned, obviously scavenged from a burned bridge or maybe an oil drilling platform. It took a few years to transform it into a map and print gallery. Now the redwood posts, beams and ceiling joists, the original fir flooring, added French doors and large windows provide a light-filled and relaxing atmosphere for viewing antique prints and maps. It is a place where you can breathe fresh air, relax, and spend a quiet afternoon looking at some of the very best, interesting, beautiful, and rare antique maps and prints available.
A flock of peacocks lives here. You will often see one peering through the glass of the gallery's French doors. Peacocks are curious about everything. They'll usually come around when they hear people talking, just to see what's going on.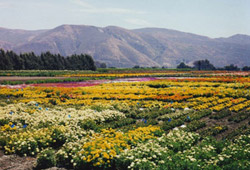 I recommend that you drive along Highway 126 through the Santa Clara river valley from Santa Clarita (at Interstate 5) through Santa Paula to the gallery at Fig Tree Farms. You will drive through Southern California's most beautiful river valley. The Santa Clara River rises above Santa Clarita and flows west into the Pacific at Oxnard and Ventura. Lush green orchards of oranges, lemons and avocados and fields of flowers, strawberries and tomatos lie between two mountain ridges and cover the foothills. Near the ranch during most of the year you can see fields of flowers grown both for seed and for cut flowers. Next door to the ranch are 38 acres of cut flowers. The aromas can be astonishing!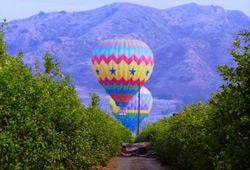 There are many ways to enjoy the beauty of the valley. Agritourism has taken hold: at Limoneira Company, within a five-minute drive of here, you can take an early morning hot air balloon ride, tour a lemon packing house, catch a jeep ride through the back country or have a gourmet dinner in an orchard. In October the numerous pumpkin patches, such as Underwood Family Farms, have grown into major annual events with petting zoos, hayrides and bluegrass music. And the Christmas tree farms. You can ride a vintage train to a Christmas tree farm, get off, hunt for the best tree, cut it and load it onto a Fillmore & Western Railway Co. flatbed train car and ride the train back to Fillmore. Not to mention the weekly farmers' markets and the strawberry, citrus and avocado festivals.
Santa Paula (the Citrus Capital of the World) is famous for the vintage airplanes based at its small airport. The Aviation Museum of Santa Paula—hangers full of vintage aircraft—is open the First Sunday of every month. While you're here you shouldn't miss the Santa Paula Union Oil Museum. It is in a beautiful 19th century building in the heart of Santa Paula.
The ranch is only minutes away from Ventura and the Pacific Ocean, but please don't forget that you really came to look at maps!