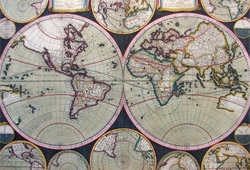 Hi,
I hope you are as delighted as I am that you've found this page, and I hope you find what you're looking for here. I expect you will also find a few surprises. I have many more maps than I can describe here, so please tell me if you don't find what you want by emailing me your wants or coming back for another look soon.
I also have a very large inventory of antique prints—botanicals, natural history, architecture and more—and will some day put them online. In the meantime, I am happy to email photos.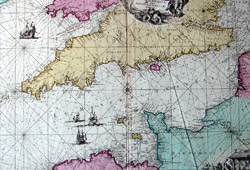 You should know that I have been in the antique map and print business since 1985, some 25 years. You should also know that I guarantee everything I sell to be exactly what I say it is-- and you will get a certificate of authenticity so stating. And I want you to know that you may return any item within ten days of receipt for a full refund of the purchase price so long as I receive it in the same condition as it was sent.
Please read The Gallery. It may not be brick and mortar, but the gallery is board and batten—a real place you can visit. I hope you will plan to when you're in the neighborhood. It is open by appointment or chance. Please call first to make sure I'll be in.
I am always looking for great things—beautiful, historically interesting or quirky—to pass on to you. I hope you will share my enthusiasm for what you find here.
All the best,